This is best time to visit the Grand Canyon

De Colleen Stinchcombe

12 de dic. de 2022 • Lectura de 7 minutos
It's hard not to be awed by the Grand Canyon. After all, you're looking at sheer layers of sedimentary rock plummeting a mile into the earth, where the Colorado River has been carving a path for at least five million years. With that in mind, "Grand" hardly seems to cover it. So, it's no wonder the park receives over 4.5 million visitors every year. But even the noisiest crowds hush to a whisper when a sunset paints the canyon walls in oranges and reds. If you're ready to pack your bags and see it in person, you may be asking yourself when, exactly, is the best time to go in terms of weather, crowds, activities, even bison spottings? We've got all the details here.
Our pick: early October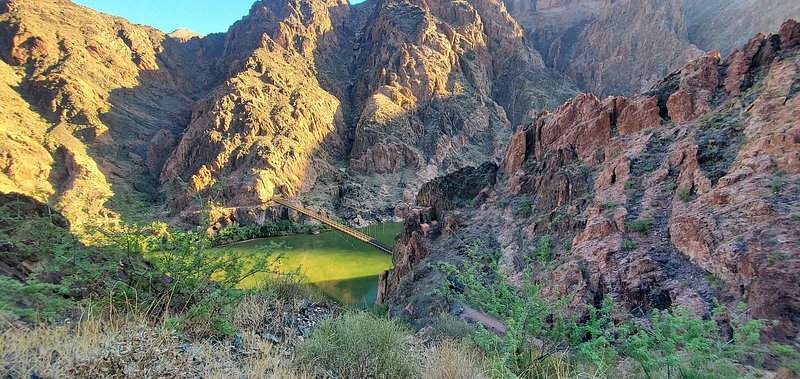 The South Rim is at its most splendid in October. Daytime highs reach 65 degrees, which means you won't be battling the sun if you want to tackle one of the park's famous hikes, like Bright Angel Trail or South Kaibab Trail, in the middle of the day.
Summer's big crowds will have thinned—about 150,000 fewer people visit in October than July–but major resources like the shuttle bus, restaurants, and ranger tours will still be in full swing until at least October 15th. You'll also have a better shot at in-park lodging and slightly better pricing and can likely snag a dinner reservation at El Tovar without too much pre-planning.
But the park has something to offer all year, so read on to learn about each season's perks.
Most park amenities: summer (Memorial Day through Labor Day)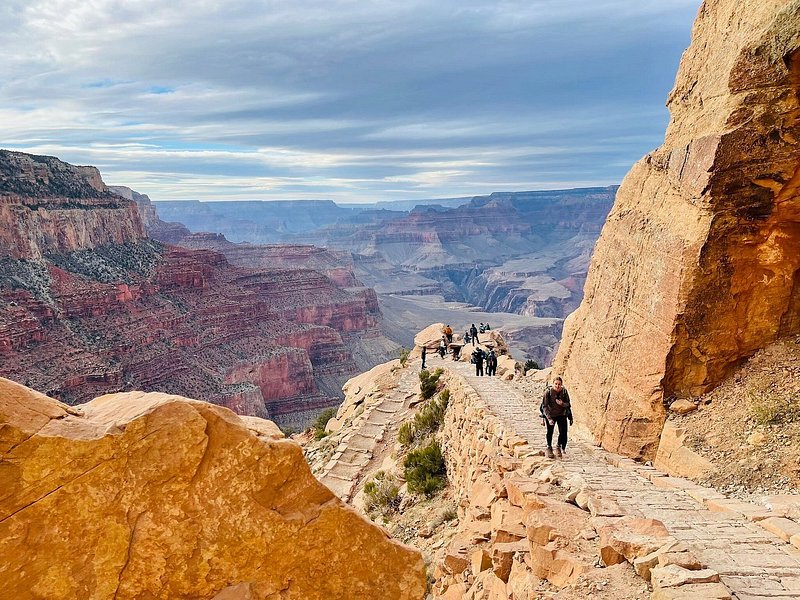 You won't be lonely during summer at the Grand Canyon. In fact, you'll probably be sharing the canyon with 2 million others. The park recommends arriving before 9 a.m. to avoid the longest entrance lines (or consider taking the train). Most restaurants operate on a first-come, first-serve basis, which can slow up mealtimes when crowds get hungry. With Arizona's infamous heat, you might be tempted to wear as little as possible—but a hat and thin, loose, light-colored layers will help you stay cooler and prevent the worst, most-blistery sun damage. Remember those sunglasses and a super-sized water bottle, too.
Weather: May to June lets you avoid the park's most scorching weather with the least chance of rain, while July and August can be challenging if your default mode isn't lizard-on-a-hot-rock. While trails at the top of the rim may be comfortably warm (with little shade), the canyon's valley can be as much as 20 degrees warmer. And temperatures in the belly of the canyon can reach over 120 degrees.
Despite the buckling heat, layers are important. Hot summer days can switch into chilly evenings, and summer monsoons bring buckets of rain. The afternoon storms are great for cooling off, but those hiking deep in the canyon need to keep forecasts in mind to avoid flash floods.
Activities: Chances are your main Grand Canyon activity is going to be walking or hiking. Walk along the canyon's popular South Rim to take in incredible views like Mather Point, Hopi Point, or Shoshone Point. (There's also a shuttle if your feet get tired.) If the weather allows for it, day hiking Bright Angel or South Kaibab Trail is a popular choice. Experienced hikers with a good weather window can get permits to hike to the canyon's bottom and either camp or stay at Phantom Ranch. (Keep in mind, reservations are required at least a year in advance.)
Lots of companies offer tours of the park, including AWD explorations and helicopter flights. When you need a break from the heat, check out one of the indoor shops or museums. Shop handcrafted Native American items at Hopi House, learn the history of photographers Emery and Ellsworth Kolb and purchase souvenirs at Kolb Studio, or learn about the layers of rock and sand that make up the canyon's walls at Yavapai Geology Museum. When hunger hits, grab a bite to eat at Maswik Lodge Food Court. If you're lucky enough to be camping, find a comfy place to relax after dark and settle in for some of the best stargazing of your life.
You can dodge much of the summer crowd by opting for the North Rim, but you'll trade that peace for fewer amenities. And it'll require some serious driving—it's at least a five-hour drive from the South Rim (and that's if you never stop to pee). But you'll get cooler weather and lesser-known trails once you get there. Right near the North Rim Visitor Center is Bright Angel Point, one of the North's most iconic views. The 23-mile North Rim Scenic Drive shows off panoramic views of the canyon from points like Cape Imperial and Cape Royal.
Wildlife: It's not just rattlesnakes and tumbleweeds out here, folks. There are more than 90 species of mammals in the Grand Canyon, which is more than Yellowstone. Bighorn sheep, bison (on the North Rim only), elk, mule deer, mountain lions, and ringtail (Arizona's official state animal that has big puppy-dog eyes and a bushy striped tail) all call the park home. But for the most part, you'll be spotting deer, elk, and squirrels because most mammals are nocturnal.
And yeah, you are going to want to watch your step—nine different rattlesnake species live in the general park area, as well as two other venomous snakes. Unlike other creatures, they love nothing more than a hot day in the sun. Luckily, rattlesnake bites are rare, and they're pretty good about sending out a warning signal. (You'll know it when you hear it.) Give any snakes you see plenty of space.
Best hiking weather: March to May, September to November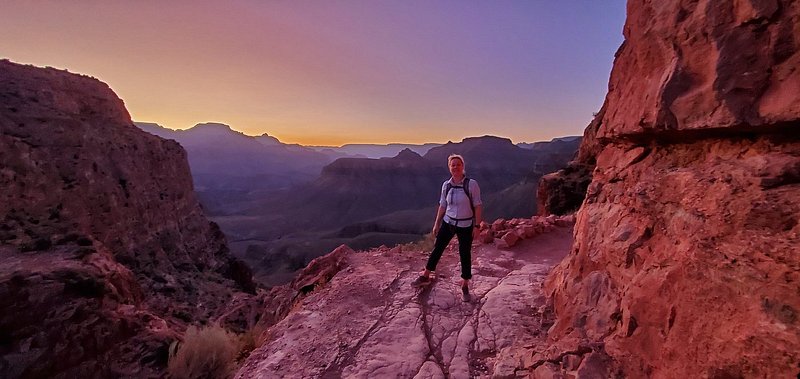 Grand Canyon is arguably at its best during "shoulder season," that magical sweet spot on either side of peak summer season. In these two spring and fall windows, hotels tend to open up and have better prices, too. Long days of hiking are ideal with cooler temps, and wildflowers—yes, flowers in the desert!—burst into bloom come spring.
Fall is quiet compared to summer thanks to kids being back in school. Plus, the foliage can't be beat: the area's birches, oaks, and quaking aspen glow in gold, orange, and crimson. And shorter days make it easier to catch both the sunrise and sunset kaleidoscoping across the canyon.
Weather: Fall has dry weather compared to summer's monsoons. Daytime temperatures hover between 50 and 60 degrees on the South Rim—perfect for hiking. Like summer, it gets way colder at night (often below freezing), so pack warm layers and an extra-warm sleeping bag if you're camping outside. The North Rim is only accessible by car after May 15 and snowfall may close it any time after October 15.
Activities: It's time for hiking, hiking, and more hiking. The same trails as summer are available, but more experienced hikers might consider setting off on a multi-day backpacking trip or just taking on some of the park's less-used trails, like Grandview Trail to Horseshoe Mesa. On the South Rim, most amenities are still open, though the shuttle service drops to two routes instead of four starting October 15. On the North Rim, keep an eye on the park's website, since it will close once winter weather arrives (or on December 1, whichever comes first). But it's a beautiful time of year to tackle one of the North Rim's overnight trips, like North Kaibab Trail to Roaring Springs.
Wildlife: Fewer people plus cooler temperatures equals more chances to see wildlife like mule deer or elk. In the fall, campers should keep an ear out for a whistling song in the night—that's the sound of elks showing off during mating (rutting) season. And while you're huddled around the campfire roasting s'mores after an early sunset, see if you can spot bats flying overhead searching for a snack.
Best to avoid crowds: December to February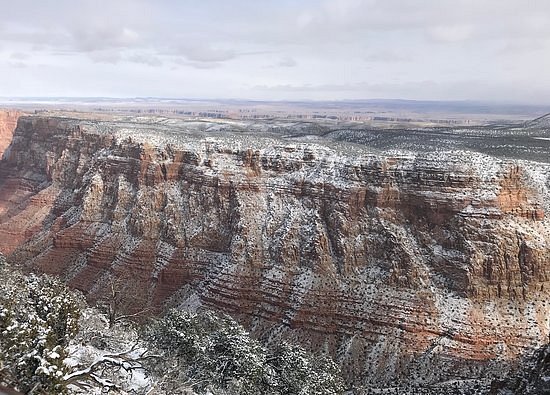 If you really want the park to yourself, winter is the time to come. Crowds are low—we're talking fewer than 10 percent of summer's visitors. The North Rim closes from December 1 (or earlier if weather requires) until May 15 every year, but the South Rim remains open year round. Although occasional snow will blanket the canyon, many trails are still hikeable. And even if you do get powder, a snow-covered canyon is a spectacular sight.
Weather: It's going to be chilly in winter, even though it's the desert—average highs are around 45 degrees, with lows in the teens. Just like summer, the canyon bottom tends to be warmer, that is if you've got a permit and you're willing to hike that far. (Yes, Phantom Ranch is open year-round, and it's easier to snag a cabin during these chilly months.) Most winter days are sunny and clear of summer's haze through the canyon, although winter storms can limit visibility and bring dustings of snow.
Activities: Whatever the weather, you can walk or take the shuttle to some of the park's most impressive viewpoints along the South Rim. (Check the park schedule to see how frequently they're running.) But as long as you've got layers (and your other ten essentials), lace up for a hike. The Hermit Trail tends to stay relatively snow- and ice-free most of the year because of its lower elevation and sunlight exposure. South Kaibab Trail, which is popular in the summertime, can start off icy but improves after the first quarter mile. Traction gear like microspikes may be a good add-on if you run into ice. When you're ready to warm up, we have two words for you: hot chocolate. Grab a cup of cocoa at the Grand Canyon Conservancy Park Store across from the Visitor Center, or do lunch at one of several restaurants in the park, like El Tovar, Arizona Steakhouse, or Yavapai Tavern.
Wildlife: Good news for folks with a snake phobia—these guys will mostly be tucked away for the season. But you still might catch glimpses of elk, California condors, ravens, or Abert's squirrels. But critter sightings will be spaced out. Most animals are cuddled up with a food cache or hibernating.
Bottom Line
March or October gets our vote for best time to visit, maxing out your options for hiking while minimizing crowds and heat exposure. But don't feel bummed if you're coming some other time. The Grand Canyon has something to offer all year. Join the crowds and enjoy the heat of the summer, relish the pleasant temperatures in the fall, or have the South Rim nearly to yourself in winter. For the best experience, plan your permits and lodging in advance, and bring gear appropriate for the weather.